2020年4月22日,习近平总书记走进西安交通大学西迁博物馆勉励广大师生:"要发扬老教授们这种西迁精神。重大的历史进步都是在一些重大的灾难之后,我们这个民族就是这样在艰难困苦中历练、成长起来的。"

On April 22, 2020,in the Westward Relocation Museum of Xi'an Jiaotong University (XJTU), General Secretary Xi Jinping encouraged teachers and students that "we must carry on with the westward relocation spirit of the veteran professors. Great historical progress is always made after calamity. It is through hardships and challenges that our nation learned to survive and thrive."
65年前,数千名交通大学师生响应国家号召,告别繁华的上海,手持印着"向科学进军,建设大西北"的红色乘车证,登上西行列车,从黄浦江畔搬到渭水之滨,开启了一场史无前例的教育"西迁",用生命和汗水在一片麦田上建起一所著名大学,为国家建设、为西部的文教事业奉献出青春年华。
65 years ago, thousands of faculty members and students of Jiaotong University responded to the country's call to migrate from Shanghai to Xi'an. Holding red boarding cards that read "march toward science and develop China's northwest", they boarded on westbound trains. From Huangpu River to Weihe River, they started an unprecedented "westward relocation" of education. A famous higher education institution was built on the wheat fields with their lives and sweat. They have devoted their youth to the construction of the country and the cause of culture and education in northwest China.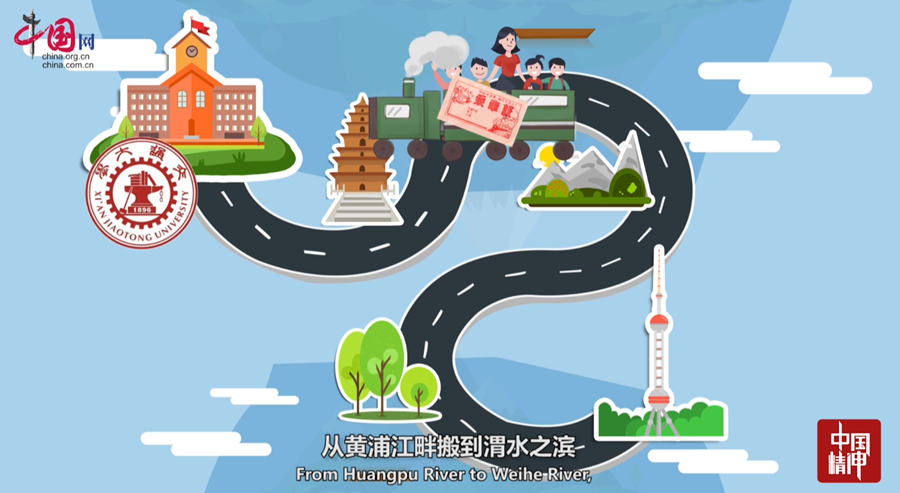 迁校以来,西安交大累计培养了27万名大学毕业生和30多位院士,重要科技成果达3万余项,打造了中国西部首屈一指的科教高地。"胸怀大局、无私奉献、弘扬传统、艰苦创业"的西迁精神已深深厚植于百年交大的血脉之中,在代代师生中传承弘扬。
Since the relocation, XJTU has cultivated a total of 270,000 graduates and more than 30 academicians, with over 30,000 important scientific and technological achievements. It has become a leading pacesetter of science and education in western China. The westward relocation spirit, which features a consciousness of the whole, dedication, traditional culture and pioneering work, has been deeply rooted in century-old XJTU, and carried forward in the generations of teachers and students.
作为新时代"西迁精神"的新传人,我们坚持始终做到胸怀大局、心有大爱,弘扬独立思考、追求真理的科学精神,擦亮爱国奋斗的精神底色,以所见、所听、所想、所为之青春画笔,绘国家发展、变迁、复兴、腾飞美好画卷。
As the new descendants of the "westward relocation spirit" in the new era, with a consciousness of the whole and great love in mind, we carry forward the scientific spirit of independent thinking and pursuing the truth. Based on a sense of patriotism and striving, we will devote what we see, hear, think, and do to China's development, change, rejuvenation and take-off.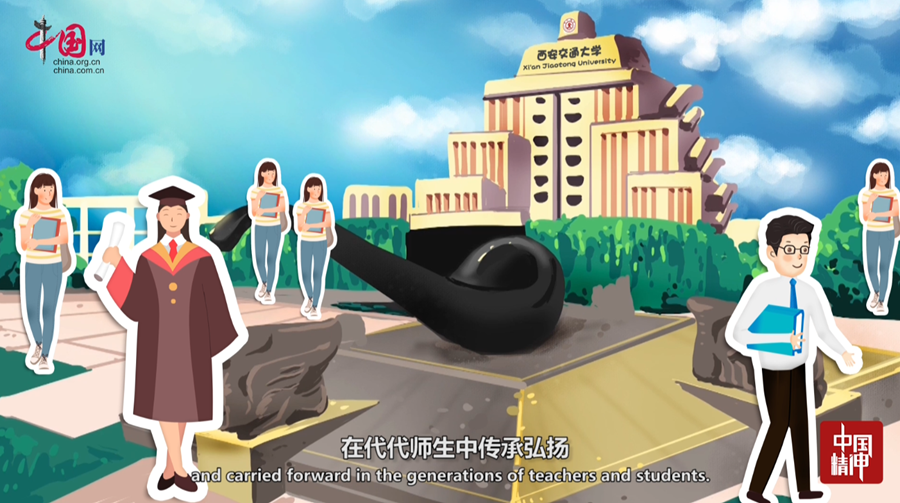 "到祖国最需要的地方建功立业",让家国情怀与使命担当根植心中,融于血液,融入人民创造历史的伟大事业中,在新时代历史征程中,为中华民族做出卓越的贡献。
"We are determined to pursue our careers in the most-needed places of the country." Our love for the country and sense of mission are kept in mind, and applied in the great cause of people making history. In the historical journey of the new era, we will make outstanding contributions to the Chinese nation.