2018年是"5•12"汶川特大地震10周年。
2018 marks the 10th anniversary of the calamitous May 12 Wenchuan Earthquake.
10年前的那场大地震,山崩地裂,满目疮痍,
The devastating earthquake that struck 10 years ago ravaged the landscape
给人民生命财产造成巨大损失。
and incurred untold losses in lives and property.
灾区恢复重建怎么样?群众日子过得怎么样?
General Secretary Xi Jinping still carries the welfare of the affected people with him even now.
习近平总书记十分牵挂。
How are the recovery and reconstruction going at the affected areas? How is the life of the masses?
2018年2月12日上午,总书记专程来到阿坝州汶川县映秀镇。
With those questions in mind,General Secretary made a special trip to Yingxiu Town, Wenchuan County, Aba Prefecture, in the morning of February 12, 2018.
10年前地震发生后不久,
Shortly after the earthquake 10 years ago,
习近平就冒着余震来这里考察抗震救灾情况,
he had braved the aftershocks and come to the site to investigate the quake relief efforts
慰问受灾群众。
and offer his condolences to the affected people.
10年过去了,这里发生了翻天覆地的变化,一片祥和安宁。
Now, ten years have passed. A facelift has taken place there, with peace and order completely restored.
看到百姓生活幸福安康,
Seeing that the locals are living in happiness and contentment,
习近平总书记表示:
General Secretary Xi Jinping said that
"我很牵挂这个地方,十年了,这里的变化我也很欣慰。"
"I have always carried the fate of this place with me. And I am happy to see its changes over the decade."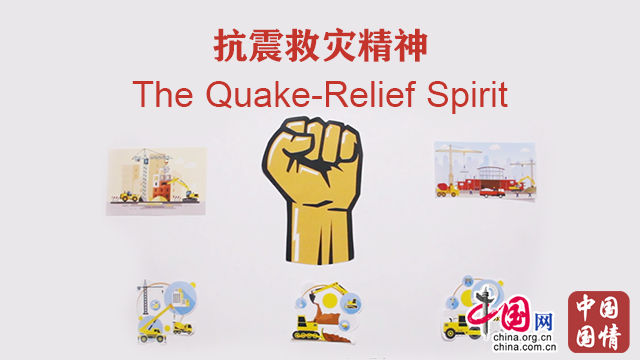 在东方大地上,

On the great land of the Orient,
中华民族历经风雨生生不息,勤劳自强,
the Chinese nation has survived storms and hardships
创造了璀璨夺目的文明成果,
and created a splendid civilization with their diligence and resourcefulness.
中华民族也是一个多灾多难的民族,
It is also a disaster-ridden nation,
地震、雪灾、洪水、泥石流,各种灾难伴随着中华民族的历史,
with a history accompanied by earthquakes, snow disasters, floods, mudslides, and various other disasters.
历久弥坚形成了中华民族坚强、刚毅的精神品质。
The prolonged struggle against calamities has nurtured a tough and fortitudinous spiritual quality in the Chinese nation.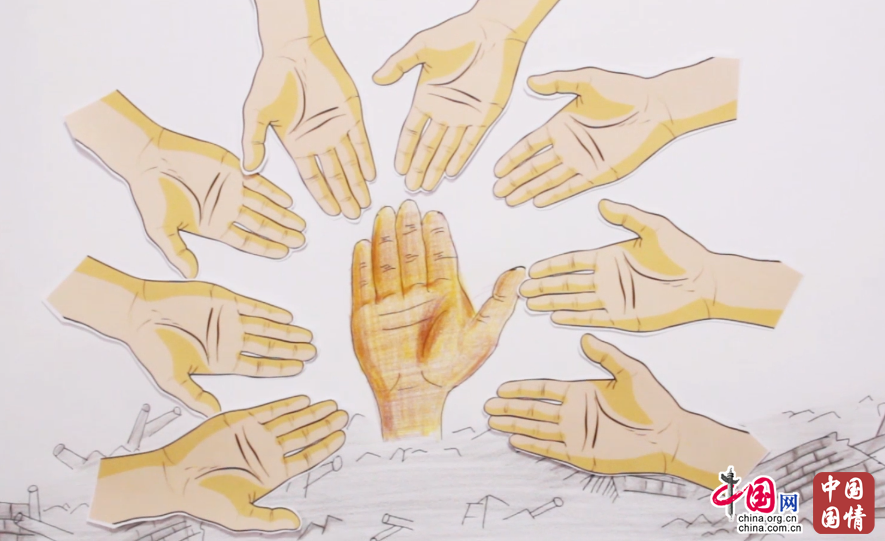 新中国成立后,我国就曾发生过多次大地震,

Since its founding, the New China has been affected by many major earthquakes.
1966年邢台半月内相继发生里氏6.8级和7.2级大地震,
In 1966, a 6.8-magnitude and a 7.2-magnitude earthquake struck Xingtai in succession within half a month.
1976年唐山发生里氏7.8级大地震,
In 1976, a 7.8-magnitude earthquake devastated Tangshan,
2008年汶川发生里氏8.0级大地震,
and an 8.0-magnitude one hit Wenchuan in 2008.
2010年玉树发生里氏7.1级大地震,
In 2010, a 7.1-magnitude earthquake struck Yushu.
2013年雅安发生里氏7.0级大地震……
In 2013, a 7.0-magnitude earthquake hit Ya'an...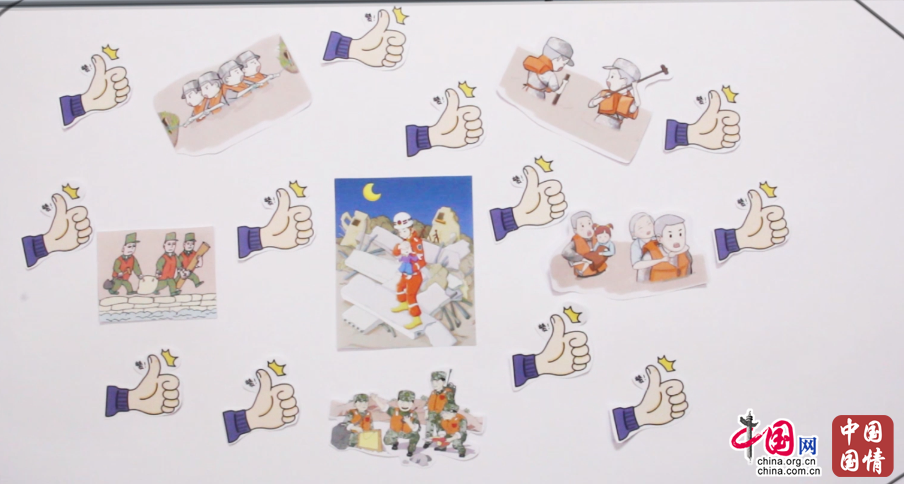 无论是抢险还是重建,

In both quake-relief and post-quake reconstruction,
以人为本、尊重科学的精神都是中国共产党和中国人民取得抗震救灾胜利的法宝。
the Chinese Communist Party and the Chinese people have always embraced the spirit of putting people first and respecting science as the secret weapon for victory.
抗震救灾精神作为民族精神的重要组成部分,
As an important part of the national spirit,
始终激励党和人民砥砺前行,
the spirit of earthquake relief has always inspired the Party and the people in their bid to press forward.
大地震可以震动山河,
A disastrous earthquake may shake the mountains and rivers,
却不能震垮中华民族实现民族复兴的决心,
but it cannot shake the determination of China to achieve national rejuvenation,
正如习近平同志所说:
just as Comrade Xi Jinping said,
"我们今天要继续弘扬抗震精神,
"We must continue to carry forwardthe spirit of earthquake relief today,
为实现全面建成小康社会奋斗目标、
so as to furnish a strong spiritual impetus for realizing the objective of building a moderately prosperous society in all respects
实现中华民族伟大复兴的中国梦注入强大精神动力。"
and achieving the Chinese Dream of national rejuvenation".